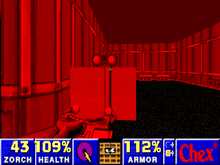 The Ultra Goggles are the Chex Quest equivalent of the Light Amplification Visor. They first and only appear in E3M1: Central Command in the observation lounge. This is the only level where they can be found and are needed to traverse the flickering light section.
When picking up this item, the map lighting will display at full brightness for 120 seconds. However, they are only really useful in the area they are found, as the rest of the level is well-lit enough for the player to see normally.
This article is a stub. Please help the Chex Quest Wikia by adding to it.
Ad blocker interference detected!
Wikia is a free-to-use site that makes money from advertising. We have a modified experience for viewers using ad blockers

Wikia is not accessible if you've made further modifications. Remove the custom ad blocker rule(s) and the page will load as expected.