This article or section is a stub. Please help the Chex Quest Wikia by adding to it.
E1M5: Sewer System is the fifth and last level of Chex Quest 2. The Level takes place in the Sewers of Chex City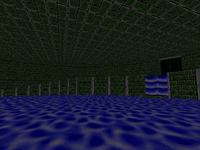 Level Walkthrough
Edit
Statistics
Edit
| | |
| --- | --- |
| Things | |
| Vertexes | |
| Linedefs | |
| Sidedefs | |
| Sectors | |
Commonus
Bipedicus
Larva
Quadrumpus
Maximus
2
Slime repellent
Chex armor
Super Chex armor
Glasses of water
Bowls of fruit
Bowls of vegetables
Supercharge breakfasts
1
Super Bootsporks
1
Large Zorchers
Rapid Zorchers
Zorch Propulsors
Phasing Zorchers
Mini Zorcher recharges
Box of Mini Zorch
Box of Large Zorch
Phasing Zorcher recharges
Zorchpacks
Ad blocker interference detected!
Wikia is a free-to-use site that makes money from advertising. We have a modified experience for viewers using ad blockers

Wikia is not accessible if you've made further modifications. Remove the custom ad blocker rule(s) and the page will load as expected.