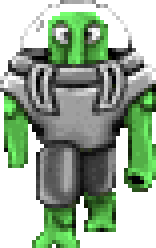 The Armored Flemoidus Bipedicus is an advanced flemoid in Chex Quest and becomes progressively more common in Chex Quest 3.
Imagine the Flemoidus Bipedicus. Now imagine it got a very zorch-resistant suit. Ouch. These guys are really tough suckers, and if you ever encounter one, it's best to run until you have a better zorcher. These guys are first encountered in Chex Quest.
The Armored Flemoidus Bipedicus replaces the Imp from Doom.
DECORATE
Edit
ACTOR ArmoredFlemoidusBipedicus replaces DoomImp 4001
{
	Game Chex
	SpawnID 5
	Health 60
	Radius 20
	Height 56
	Mass 100
	damagefactor "Flem", 0.0
	Speed 8
	PainChance 200
	Monster
	+FLOORCLIP
	+DONTGIB
	//+NOBLOODDECALS
	SeeSound "imp/sight"
	PainSound "imp/pain"
	DeathSound "imp/death"
	ActiveSound "imp/active"
	Obituary "$OB_BIPEDICUS2"
	States
	{
	Spawn:
		TROO AB 10 A_Look
		Loop
	See:
		TROO AABBCCDD 3 A_Chase
		Loop
	Melee:
	Missile:
		TROO EF 8 A_FaceTarget
		TROO G 6 A_CustomComboAttack("BipedicusBallV3", 32, random[troopattack](1,8)*3, "imp/melee", "flem")
		Goto See
	Pain:
		TROO H 2
		TROO H 2 A_Pain
		Goto See
	Death:
		TROO I 8
		TROO J 8 A_Scream
		TROO K 6
		TROO L 6 A_NoBlocking
		TROO M -1
		Stop
	XDeath:
		TROO N 5
		TROO O 5 A_XScream
		TROO P 5
		TROO Q 5 A_NoBlocking
		TROO RST 5
		TROO U -1
		Stop
	Raise:
		TROO MLKJI 8
		Goto See
	}
}